Smile Makeovers for a Healthier Lifestyle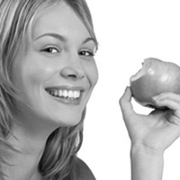 Many patients are now going to the dentist for more than just a checkup or toothache. More often, people are turning to complete smile makeovers to get the perfectly straight, bright smile of their dreams.
A smile makeover is the process of combining several cosmetic dental procedures, like teeth whitening, alignment, and veneers, to enhance a smile and make it look as beautiful as possible.
Some common issues that a complete smile makeover can correct are:

• Teeth Discoloration - This problem can be corrected through bleaching and whitening procedures from our Los Angeles teeth whitening expert
• Mismatched Fillings - Old fillings that are made of metals are easily replaced with new porcelain or tooth colored fillings
• Chipped Teeth - Damaged teeth can be reshaped to make them look more natural
• Crowded or Spaced Teeth - Porcelain veneers can help teeth look more even
• Missing Teeth - Dental implants and bridges can be used to fill in space from missing teeth.

All of the above methods can be combined to bring a smile back to life. A complete smile makeover does more than just enhance a patient's teeth though; it can improve their self-image and even their oral hygiene.
Studies show that people who think their smiles are unattractive have less self-esteem, which can hurt them in their professional and personal relationships. A complete smile makeover can have you gleaming and grinning with more confidence than ever before.


Also, dentists have noticed that patients with smiles they are proud of are more willing to spend the time and energy to take care of them. This means better oral hygiene, better diet, and more frequent checkups at the office. All of this leads to healthier gums and teeth and this motivation to stay healthy often extends well beyond oral care.


If you want to restore your smile back to its full potential, give our office a call or schedule an appointment to see which procedures might be right for you.

Back to Blog