Tips for Getting a More Dazzling Smile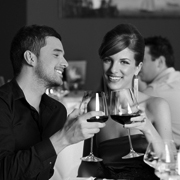 A dazzling smile can be your best accessory. Our Los Angeles teeth whitening expert offers a few simple tips to help you get your smile looking and feeling its best.


1. Brush and floss your teeth. - Use a soft-bristled brush and fluoride toothpaste at a 45-degree angle towards your gums to clean your teeth twice a day or after meals. Floss every day. Daily cleaning keeps plaque and bacteria at bay and brightens your teeth.
2. Eat your veggies. - Get a beautiful smile from the inside out by getting the right nutrients. Fruits and vegetables have numerous tooth- and gum-healthy nutrients, and fruits and vegetables that are particularly watery or fibrous, such as celery and apples, can help naturally clean your teeth and rinse away debris.
3. Visit our dentist. - A professional cleaning a few times a year can polish away surface stains and buildup and leave your teeth feeling fresh and your smile healthier. We can also explore options for improving your smile, including teeth whitening and porcelain veneers.
4. Treat as needed. - Our dentist offers teeth whitening solutions that can remove stains from common substances for a more sparkling smile.
5. Protect your teeth. - Coffee, tea, wine, energy drinks, candy, gum, and even mouthwash often contain natural and artificial dyes that can stain your teeth. Limit your intake of these items, use a straw when you do indulge, and rinse with water after using any stain-causing substance.


Give us a call to learn more or to schedule your next appointment.

Back to Blog