Treatments for Yellow Teeth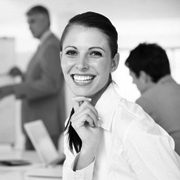 Yellow teeth can be embarrassing as well as aging. Our Los Angeles teeth whitening expert offers a variety of whitening treatments that can eliminate yellow stains and leave your teeth whiter and brighter than ever before.


Some teeth are naturally yellow while others become yellow or discolored over time due to enamel wear, smoking or dietary habits. Improved dental hygiene and a professional cleaning may be enough to combat minor superficial stains. A professional cleaning will polish the surface of your teeth and leave them looking brighter. When stains have penetrated into the deeper layers of the teeth, professional whitening treatments can be used to restore their natural color.


In-office treatments are both fast and highly effective. We will begin by protecting your gums and lips, and then we will paint on the prescription-strength whitening gel. This gel is activated with a special light that helps it work quickly and evenly. The peroxide in the gel penetrates deep into the enamel and dentin and leaves the teeth up to eight shades brighter.


Take-home treatments also use powerful whitening solutions. We will customize a tray that will be used to apply the gel to your teeth. This tray is designed specifically to limit the contact between your gums and the solution. You can often see dramatic results within just a few days.


In some cases, whitening alone may not help you achieve the results you crave. Lumineers and porcelain veneers may be an option. We can help you determine the best treatment for your needs. Give us a call today to schedule your appointment.

Back to Blog